Spawned from the Novi Lakeshore Park Tuesday night ride, Team Tree Farm is a group of friends that have been riding, racing, working on trails and having fun together for several years. We started out riding together on a night ride in November of 2002. Over the years we have gathered new members, and our friendships have become stronger. Through group rides, trail advocacy and good times… Team Tree Farm is one of the most exciting cycling groups in Michigan.

Team Tree Farm got its name from the original name of the Lakeshore Park Trail, which was once a tree farm. The city of Novi took over the tree farm 20 odd years ago, and the trails started from there. Thus, the original trail was known to the local mountain bike community as the Novi Tree Farm, but now, the name of the trail system has been formally named Lakeshore Park Trail. The Tuesday night group ride has turned into one of the largest weekly group rides anyone is aware of on the planet! The group ride continues to meet each and every Tuesday night at 6:30 to ride the Lakeshore Park Trail, and the numbers have swelled to as many as 62 riders on one ride. The group averaged 50-55 riders for 8-10 weeks during the summer.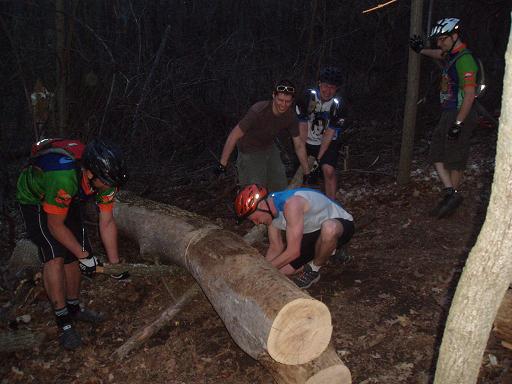 But, the SPIRIT of the original group, of volunteer trail builders, has spread amongst all the new Tuesday night crowd. The Tuesday night group riders, now calling themselves Team Tree Farm, has spent record numbers of hours building, maintaining, and enhancing the trails at Lakeshore Park in Novi and the brand new trail at Hickory Glen Park in Commerce. At last count, this group is responsible for over 1000 hours of in the woods doing volunteer trail work. Furthermore, the same volunteers have racked up countless hours of volunteering, outside the woods, in preparation for those traildays.